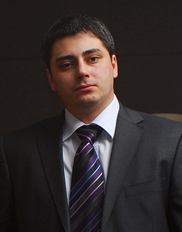 Aleksandr Rudenko, Managing Partner, Dispute Resolution Practice.
Aleksandr Rudenko is practicing law for more than 8 years. Mr. Rudenko's practice is focused on alternative dispute resolution and litigation. Mr. Rudenko has an extensive experience in domestic litigation at both the courts of commercial and general jurisdiction, as well as in mediation, domestic and international arbitration. He concentrates his practice in the resolution of complex, high exposure, multijurisdictional disputes. Mr. Rudenko's extensive litigation and arbitration experience covers a wide range of breach disputes in the commodities, corporate, cross-border transactions and transport sectors. Mr. Rudenko also has a vast experience in Сontract and Сorporate law, Cross-border transactions and Maritime law.
Mr. Rudenko started his career at state service working for the district Justice Department in Kiev, were he held the position of a leading specialist and provided registration and legalization of non-profit organisations, as well as exercised the supervision of law observance by the said organisations. After leaving the state service, he joined one of the largest Ukrainian Holdings, were he mostly dealt with Real estate, Corporate and Contract Law. In 2005 Mr. Rudenko joined a top-ranked French Law firm LKI, were he has focused his field of expertise on Litigation, Real Estate, Corporate and Contract Law, as well as Taxation matters, He left LKI in 2007 from the position of Head of Legal Services Department and matriculated to Fordham Law School in the city of New York and gained the Master's degree in International Business and Trade Law.
Upon his return to Ukraine Mr. Rudenko joined a top-ranked Ukrainian full service Law Firm, were he practiced International and Domestic Arbitration as well as Domestic and International Litigation. In 2010 Mr. Rudenko together with Mr. Reun has established Arstrong Law Firm and is currently leading Dispute Resolution Practice with Arstrong.
Mr. Rudenko received a Master Degree in Law from Kiev National University named after T. Shevchenko.